Ever think about some big goal to run far?
It's something Ohio resident
Tim Adkins
has been thinking about for more than 20 years.
Maybe it's your first 5K, 10K, or half marathon. Or maybe you've got even bigger goals to run far and check off a marathon or ultra.
If you're serious, you'll even step outside your comfort zone to see what you're made of, test your limits, run far, and then maybe a little extra.
For Adkins, "run far" wasn't even on his radar for years. Something happened that changed everything in an instant, making even the simplest goals seem impossible.
If you've ever doubted your ability to run far, Adkins story of survival is a reminder that unexpected and surprising things can rise up out of tragedy, hardship, and struggle.
Settle into a comfortable pace, and go for a run with Tim Adkins…
'The Last Thing I Remember'
When Tim sits down to take me back to "that day," he's digging into a Triple Pig Sandwich from
The Brew Kettle
in Ohio.
It's a sandwich stacked with a pound of meat (pulled pork, bacon, and ham). A fitting meal for an accomplished ultrarunner who can burn through 5,000 calories on a training run.
But there was a time in the not-so-distant past that he couldn't even feed himself.

It happened on the Fourth of July when he was just seven years old.

His family took a trip to Lake Erie. Part of the camping-trip fun included playing on the beach. His brothers buried him in the sand. When he crawled out and waded into the water to rinse off, it happened.
He went under...and didn't resurface.

The clock started ticking.

His dad and step-mom were back at camp packing up. His brothers didn't realize he was missing.

Time was running out.

Seconds went by.
Then minutes.

Finally, someone shouted...


"Where the hell is Timmy?"

And then a kid tripped on his lifeless body.

"He got his dad's attention, and his dad was a firefighter and EMT," says Tim, sharing details he's learned from others about that day. "There happened to be three nurses on the beach that day, too."

They pulled him from the water and worked to revive him until paramedics arrived.
After two different hospitals, life flight, and a specialty hospital, Adkins' family got the news.
"He's basically been dead for 24 hours," medical staff told Adkins' family. "Now he's in a medically-induced coma. If he wakes up, the best possible hope for him is that he'll be able to sit up on his own. If he lives, he'll probably depend on a ventilator and feeding tubes."
If he was ever going to run far, it would take a miracle.
Walk, Then Run...

"When I came out of a coma, I was basically a baby," says Adkins. "I had to learn how to walk, talk, and eat again. I couldn't do anything."

And surprisingly, it may be the very circumstance that led him to ultrarunning.

Even though he was surrounded by supportive family and friends, he heard the comments and whispers.


"That's too bad."
"It's OK."


"He probably won't ever be able to walk."
But you know what happens when someone challenges your goals with a comment like "I don't think you can run far?"

It makes you even more determined to try, work harder, and keep going, even when it seems impossible and the odds are stacked against you.

"Everybody used to point to the accident and use it as an excuse for why I couldn't do something," says Adkins. "But I just knew I'd walk again. My mom took me out to the courtyard every day to help me, and I kept improving."

When he was 18, he ran his first 5K, an impossible distance based on his prognosis a decade earlier. And then a friend at work planted the seed to run far with a challenge.
"That's pretty cool you ran a 5K," his co-worker said. "But it's kind of a baby race for you. I bet you can run a marathon."
The Road to Ultra
And that was just the kind of friendly nudge Adkins needed to go the distance.
He ran a marathon. Then a 50K. A friend from the
Cleveland West Road Runners Club
convinced him to run the North Coast 24-Hour Endurance Run, even though he doubted his ability to run far for that long.
"I don't know if I can do it," Adkins recalls. "She said, 'Just go as far as you can, and call it whenever.'"
"Whenever" turned out to be 43 miles for Adkins. A long list of marathons and ultras followed. And eventually, Adkins (the boy who nearly drowned and had to relearn how to walk, talk, eat and run again), graduated to something even bigger.
Buckeye 200-Mile Ultra (aka Olde 96er)
Are you prepared to be alone on the road, potentially in cold, freezing rain, heat, fog, or thunderstorms?
Can you handle following a course that isn't marked with flags, streamers, or pie plates?
Yes, and yes. Adkins signed up to run far...longer than any distance he'd covered before.
"I'd never run anything more than 100 miles," says Adkins. "It was a totally different game. I signed up with two friends, and we stuck together for the first two days."
They covered about 120 miles together. But on the third day, Adkins decided it was time to make his move.
"I left super early," says Adkins. "My plan was to just run as consistently as I could."
Even with a support crew to keep him going, Adkins was feeling the drain of running 150-plus miles on his push to the finish.
"I was going through all the emotions of running ultras," says Adkins, "and physically, I was really feeling it too."
But just like the day at the beach, everything changed in an instant.
"Ben Brucker was chasing me the whole last part of the race," says Adkins. "The race director kept telling me how close he was, how fast he was moving, and the approximate time he'd catch up if I didn't move a little faster."
But Adkins was in the lead, headed towards the finish. Would Brucker really be able to overtake him after running nearly 200 miles?
A few blocks from the finish, Adkins stopped to adjust his shoe. And then he heard yelling…
"He's coming!"
Brucker was in a full sprint.
Seconds went by.
Adkins had to make a split second decision.
Surrender to the punishment of running nearly 200 miles and let Brucker win or race to the finish?
His split-second decision...He tossed his trekking poles to the side of the road for his crew to pick up.

And the chase was on. Adkins charged towards the finish, running downhill. Brucker was gaining ground with every step.

"I won by 1.4 seconds," says Adkins. "That's one of the best moments of running and racing I've ever had."

The next time you're struggling on a run, thinking about giving up, feeling like the finish is slipping away, dig a little deeper. You might be surprised at what's really possible when you run all the way to the edge, and keep going.

Favorite shoes
Favorite hydration pack
When I first heard about running 100 miles…
I thought, that's crazy. I don't see how anybody can do that.
Advice: If you want to run far...
Get with people who run the races and distances you want to do. If you surround yourself with people who can show you the way, you're gonna do it.
Favorite running store & crew
Course record
The Olde 96er Ultra (now Buckeye Ultra 200): 69:50:20 in 2019.
Upcoming races
Sept. 4: Tuscazoar 50-Miler
Sept. 9: Buckeye Ultra 200-Mile Road Race
Oct. 9: Canal Corridor 100-Mile Endurance Run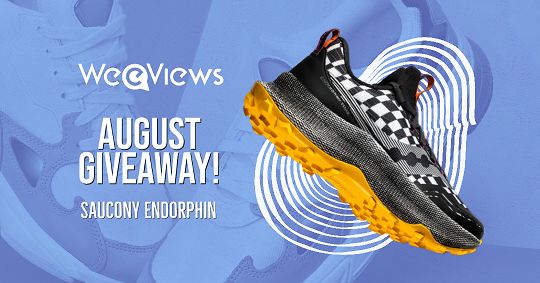 https://www.weeviews.com/rundown/gear-giveaway