How far can you go in 24 hours? When you run for cancer, it changes the way you face the challenge a little.
In 2021, an estimated 1.9 million new cancer cases will be diagnosed, and 608,570 people will die from cancer, according to the American Cancer Society.
Chances are pretty good you know someone who's battled cancer. But you don't have to take that sitting down.
Instead...run for cancer.
Two longtime running friends (Nikki Niemeyer and Connie Gardner) stepped up to the starting line of the
Virginia 24-Hour Ultra Run & Relay
to see how far they could go for a good cause.
So how did they do? In this post, Nikki lays it all out from start to finish. Here's what happened...
The invitation

"Hi Connie, do you want to run a 24-hour ultra?" It's Tim Scott, the race director for the Virginia 24-Hour Ultra Run & Relay.

"Yes," Connie says. She doesn't hesitate or pause to consider the challenge.

Connie has been on Team USA a handful of times. She once held the American record for a 24-hour challenge, running 150 miles in a day. And she's racked up countless other ridiculous race performances over the years.

On the other end of the spectrum, I'm a novice 28-year-old trying to find my way in the running world. Connie and I have been friends for years, but I still don't want to get completely demolished my by her at 57 years old.


When I find out Connie is a go on the race, I sign up immediately. I don't know about you, but I've been itching to race since the pandemic cancelled most races in 2020.
There was a different reason Connie didn't lace up her running shoes much in 2020. She spent months recovering from a serious knee injury. So why not make her first post-surgery race an epic one and run for cancer in a 24-hour race?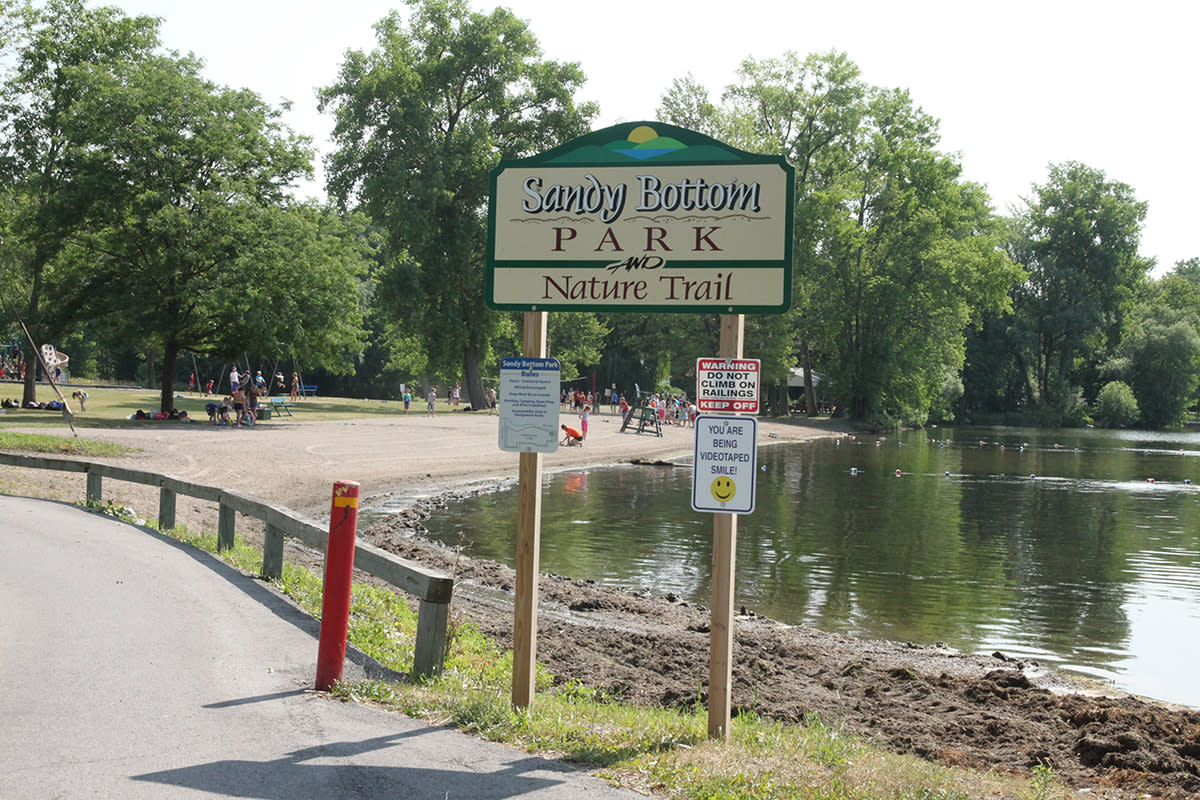 Run for cancer, run for a cause

Every ultra-marathon I run, I learn something new and vital to racing better. I knew signing up for my first 24-hour race would be no different.

The Virginia 24-Hour Run for Cancer has been going on for 18 years, located just 30 minutes away from Virginia Beach, Va. The race raises funds for the American Cancer Society.

Everyone involved is in it for the love of running, which is why I like running races like this. This is a non-profit race and the new race director Tim Scott (along with the previous race director George Nelson) put a lot of time and effort into making this event happen.
The course
is at
Sandy Bottom Nature Park
in Hampton, Va., on a 3.75-mile groomed beautiful trail, with aid at the beginning/end of the loop. The goal is to see how many miles you can run in 24 hours. You can use the 24 hours however you'd like, but if not used wisely, break time to eat, go to the bathroom, and change clothes can add up quick.
Pre-race prep
If you plan to run an ultra, or participate in a 24-hour race, going in with a clear nutrition plan is key. Connie always says to go into the aid station knowing what you need beforehand, so you can just grab the food and eat it on the go. For this race, we both decide to include...


The day before the race


Connie and I both were working at
Achilles Running Shop
in Cleveland Heights. As soon as we got off work, we dropped our friend Shane off at the CLE airport and then hit the road. We got into our hotel at 2:30 a.m. and had to be at the race at 6:30 a.m. We figured no one really sleeps great before race day anyways, so it was all good.
Countdown to start....

We arrive on race day a bit later than planned. As racers begin the 24-hour run, we scramble to mix our race drink. Filling bottles the best we can, spilling a good amount as we rush.

In the midst of our chaos, the race director (Tim Scott) comes over, welcoming us to Virginia, giving us a quick private pre-race briefing. We scramble to the starting line, not quite awake, disheveled, not sure if we are prepared for this event.
On your mark, get set, GO!

Miraculously, as soon as I cross the starting line, my legs feel light and fast...ready to race.

We start running the 3.75-mile loop through Sandy Bottom Nature Park.

My mind is already thinking about what to grab after the first loop at the aid station.

The first five laps or so, Connie and I race together. Eventually we break off into our own groove.


Start to 12 hours of running
Regardless of the fact that we were sleep deprived and not properly trained, the race was moving along nicely. For those first 8 hours or so.

On the course we were meeting people from all over the country. Connie was bumping into friends from her racing past. That first half of the race was actually fun.


The volunteers, race director, park director were all out there.
It was like a family reunion atmosphere.
We quickly felt a part of the family.
Take cover or keep going?

Unfortunately, after about 12 hours of running and enjoying one big party, it began to rain on our parade.
The temps dropped.
The trail became slick
Puddles grew.
The tent we shared with our close friend from Ohio looked mighty enticing.

I needed to be dry and sitting under that tent in comfortable chair, and that is precisely what I did.
Mud + more miles

Connie saw me sit and quickly snuck in another lap, before telling me to get back on course.

But first...food. I downed some soup. Connie ate a burger.

When she came through the next lap, I joined her to hike the trail.


The thick mud was too much for her beat up legs.
We hiked for some time in that sloppy, cold, wet mess.
In the middle of the night, we discover that we've got a comfortable lead on the other runners still in the race.
Time for much-needed Zzzs

We decide to find a hotel, get cleaned up and grab a few hours of much-needed sleep for our drive home.
The next morning we headed back to the race to say goodbye to our new and old friends, and pick up our winning prizes.
But there were still a few runners on the course. Two women, Amie Singletary (82 miles) from Newport News, Va. and Lisa Georgis (79 miles) from New Ringgold, Penn., toughed it out through the night and beat Connie by 2 miles, and me by 10. They earned it!
The top 2 male finishers included Jim Warner (105 miles) from Wanaque, N.J., and Jason Wood (101.25 miles) from Newport News, Va.
Back for more to run for a cause

Will we head back again next year?? Of course. We wouldn't miss it for the world. The Virginia 24-Hour Ultra Run & Relay has the old-school ultra-feel that Connie misses, and I've quickly grown to love.


You're surrounded by like-minded runners.
You struggle together.
You push each other to keep going.
Friends and volunteers cheer you on, help you at the aid stations, and serve great-tasting food to fuel your run.
And everyone celebrates effort from start to finish.

When you run for cancer, or run for a cause, you're not just chasing the clock to collect a medal. You're running to make a difference.

Do you run for a cause? Tell us about it in the comments below.